Hey Guys! Yazmo2007 here! As you might know already, Club Penguin has turned 5! The Anniversary party is only for 1 day only so be sure to check it out! Here are some of the cheats!
Where are the party hats this year?
Club Penguin always celebrates their anniversary in the Coffee Shop so head over there. You will see a wrapped present on the floor next to the Anniversary cake!
Click on the present and waddle on over there! Click yes when it says do you want to pick it up? Congratulations! You just got the 5th anniversary party hat!
Don't forget the enormous cake in the Coffee shop!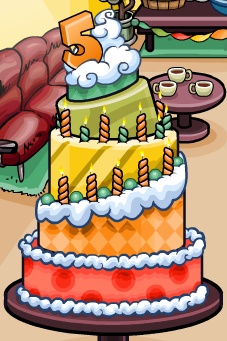 Click the top of the cake to blow out the candles and get the Celebration stamp added to your stampbook.
Where is the new Club Penguin yearbook?
All of the yearbooks are kept in the book room which is the second floor to the coffee shop which is called the Book Room!
Don't forget to look at the new yearbook to see all the fun memories Club Penguin has had in the last year.
Too bad Club Penguin didn't release an Anniversary pin which is sad because Anniversary pins are some of the most rarest pins on the island.
Well that's about it! That's is the 5th Year Anniversary Party! I hope you guys enjoy it and have as much fun as I did! See ya later!
~Yazmo2007